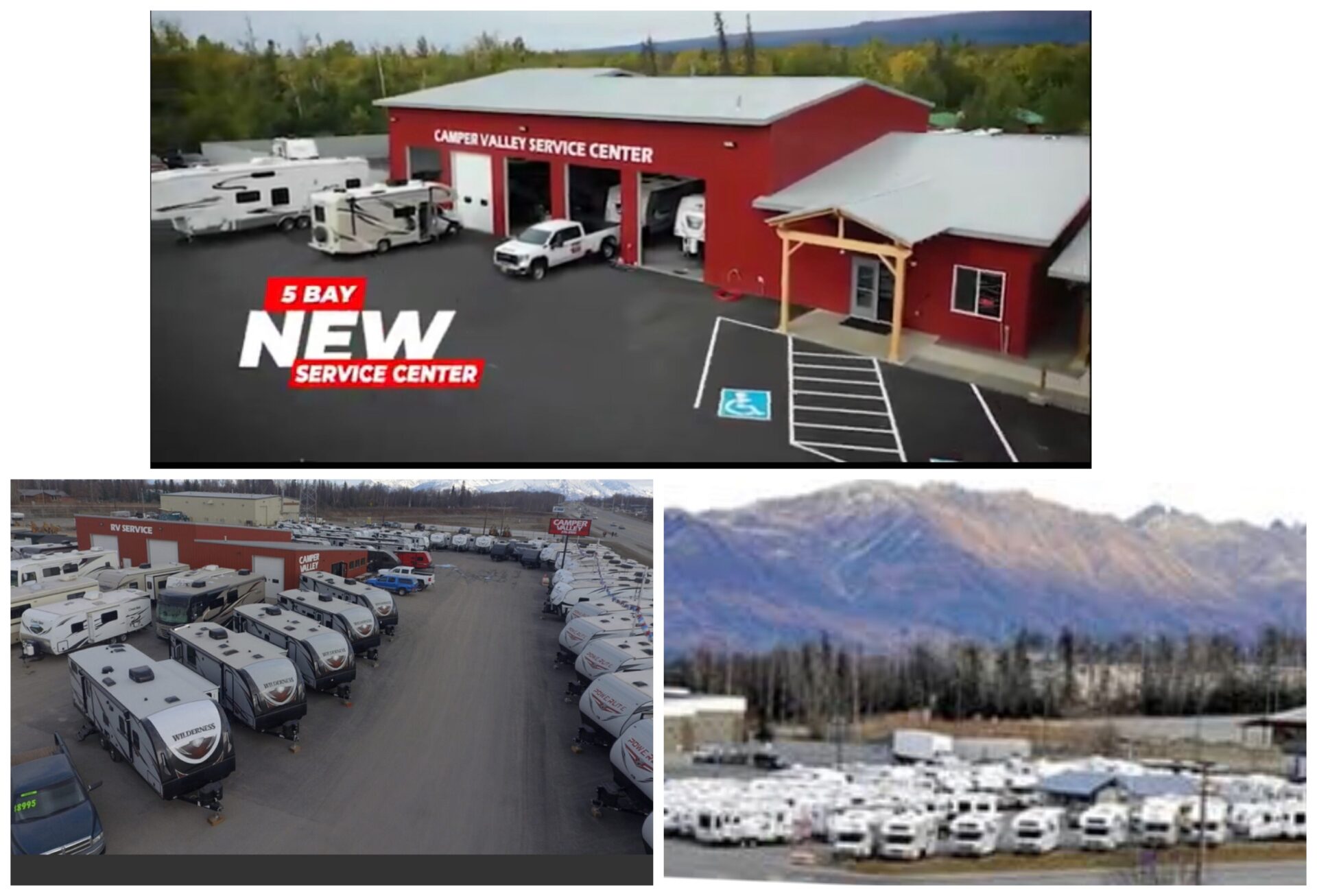 Camper Valley RV Has A New Parts Store
& A FIVE BAY SERVICE CENTER
Camper Valley RV Has A New Parts Store
& A FIVE BAY SERVICE CENTER
Welcome to Camper Valley RV
Camper Valley RV has the best selection of new and used RVs in the state of Alaska. Our No-Pressure sales team has over 30 years of combined RV sales experience and are ready to help you select the perfect RV to fit your needs. Alaskan owned and operated, we are RV enthusiasts ready to make your dreams come true!
Need to sell an RV? Camper Valley RV Park & Sell takes all the work out of turning your RV into CA$H! Whether you are looking to buy or sell, visit Camper Valley RV today!
Our inventory is continuously moving so check back often. Browse our inventory online or visit us today!
Click on a brand below to learn more!
The Outdoors RV Difference!
Are you in the market for a new travel trailer or 5th wheel? Camper Valley RV has Four Season units in stock today. If you are wondering what the benefits are, of owning a Four Seasons travel trailer or 5th wheel, here are some standard features that come with all Outdoors RV units.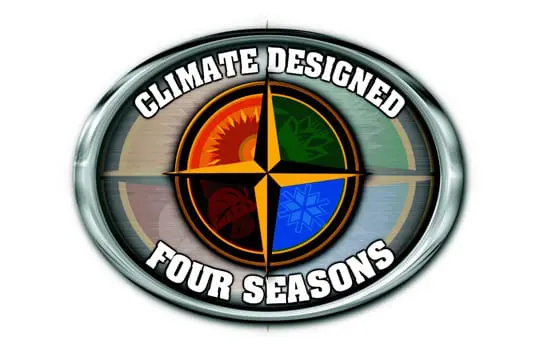 All Outdoors RV units come standard with a True Four Seasons insulation that starts with 2" thick vacuumed bonded hard fiberglass exterior walls all around and fully enclosed, heated and triple insulated holding tanks. All the holding tanks are fully enclosed with weather shield material and above that a complete layer of R-15 insulation is run front to back inside the underbelly. Each tank is then wrapped again with a layer of R-15 insulation the sewer dump valves are re-routed inside the heated underbelly, so no fluids are exposed underneath. Next a 12-volt heat pad is placed on the freshwater tank and 2 layers of thick R-7 blanket fiberglass insulation is placed on top of the under belly and heat is ducted from the furnace to all the tanks and dump valves! Most manufacturers only enclose the underbelly with a black weather shield barrier and claim to be 4 seasons with no insulation or heat ducted to the underbelly and the dump valves and fluids are hanging underneath the trailer exposed to the elements!
All Outdoors RV units have standard Dual Pane Thermal Insulated Mountain Extreme windows vs a single pane glass on most trailers. The roof has a triple layer R-29 insulation barrier to keep the heat inside the trailer. The slide out floor is also fully enclosed with Hard fiberglass vs. black tarp used on most trailers with marine grade plywood sub floor and a layer of R-15 insulation under the carpet with 5 slide out seals vs. 2-3 on most trailers. The marine grade plywood sub floor is covered with TREXX vinyl flooring that has a cold crack warranty down to -50 below zero as most thin vinyl flooring used by most manufactures today will crack under extreme weather conditions.
All Outdoors RV trailers are sitting on a custom-built Off-Road Chassis that is custom built per floor plan for maximum ground clearance and a smoother ride on our rough Alaskan roads. First are the Good year 10 ply E rated and above tires that are made in the USA and a Mor-Ryde Cree Shackle kit that gives you 3" more travel on rough roads with grease points and 4 Monroe HD shock absorbers in addition to heavy duty spring stacks and a off road braking system. The interiors are also quality with real hard Alder wood cabinets, LED lights,12-volt LED TV's, upgraded quality interiors and more! This is a Brand you need to see in person so come see them today!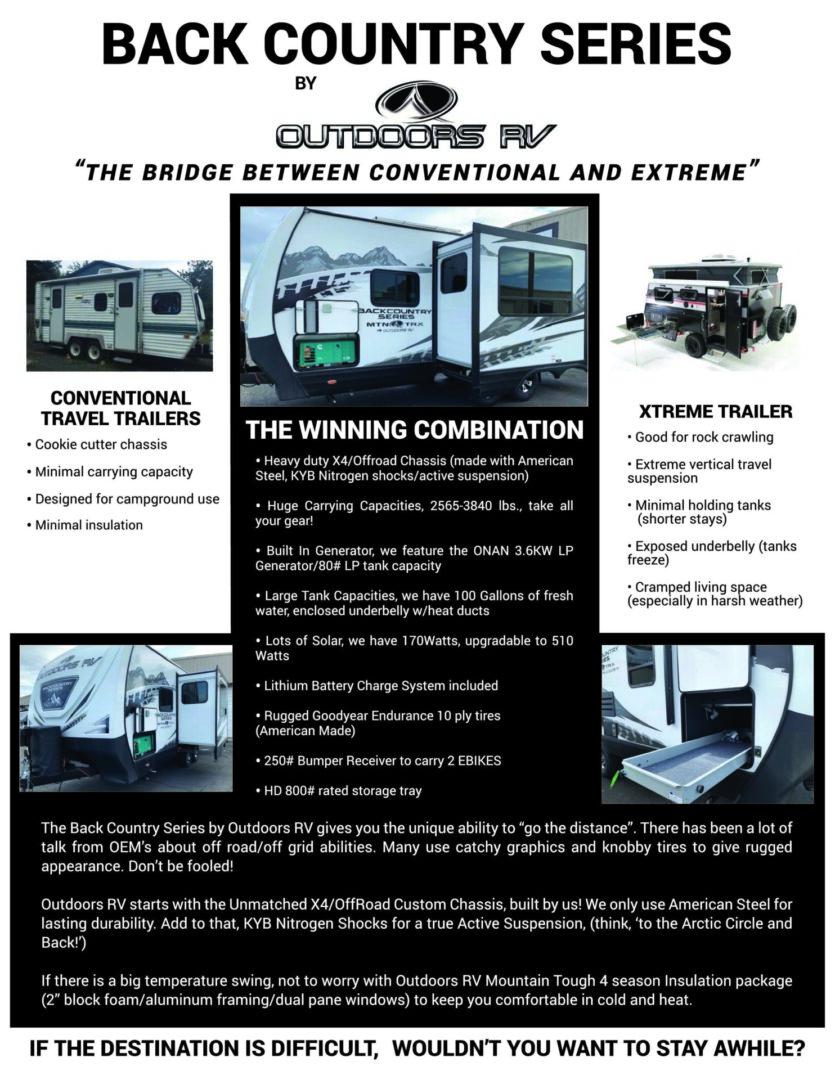 Purchase your RV today at Camper Valley!!